Many of you are probably preparing to send letters, gifts, and packages for the holiday season and ask How Many Stamps Do I Need? Understanding how to send mail and packages is essential because the last thing you want is a returned piece of mail that is time-sensitive.
You have come to the right place. We will lay out step by step exactly how many stamps you need for each type of package, weight and where it is going.
Figuring out the postal system and its available services can intimidate and confuse some people. Wondering if you included the correct postage is the last thing you should be worried about when sending a vital business class letter or a package to a family member.
We've simplified the process, so grab your stamps, shipping label, packages, and note pad, and we'll get started.
Postage Stamps
Postage stamps are issued by a postal service and sold to customers in specific increments of money. The customer uses the stamps to pay for their envelope or package shipment. The amount of stamps assigned to a type of package or envelope covers the cost of moving, insuring, or registering mail; Stamps are how the public pays to have their postage sent.
How Many Stamps Do I Need
Mailing a letter can be confusing when you don't understand how much postage is required. The amount of stamps a letter or package requires depends on where it's going, its size, and its weight. The addition of options such as proof of delivery or certified mail receipt and extra weight can determine the price of the letter or package.
We reviewed all the information, simplified it, and have everything you need to mail a letter or package.
How Many Stamps for Domestic Letters
Many people ask how many stamps they need for domestic letter shipping within the United States. The short answer is one stamp or $.58 if you use a Domestic Forever Stamp (Forever stamp increased from $.55 to $.58 in 2021).
The $.58 or Forever Stamp only covers the first ounce of the weight of the letter. Each additional ounce costs $.20 (Increase of $.05 from $.15 in 2020).
To be mailed under standard letter mailing rates of $.58 for the first ounce and $.20 Per ounce after.
Your letter will get charged extra fees if you send mail in lumpy or rigid envelopes. It has an odd shape and cannot be sent through automated processing equipment.
So that you are not charged additional fees, it is essential to know the size and weight of what a standard letter is because each additional ounce means extra in shipping costs.
1/4 Inch Maximum thickness for a Letter
The Minimum Lenght of a Letter is 5 Inches
Maximum Lenght is 11-1/2 Inches
Minimum Height is 3-1/2 Inches
Maximum Height is 6-1/8
Must be rectangle
There is a money-saving trick for first-class mail postage. If you print postage online (via Stamps.com), the Metered Mail rate for a First Class Mail Letter (1 oz.) is $0.53.
With a 5 cents discount, printing postage online using the Metered Mail rate provides a 9% discount off the Post Office price of First Class Letter. If you are mailing wedding invites or Christmas cards, $.05 per letter can add up.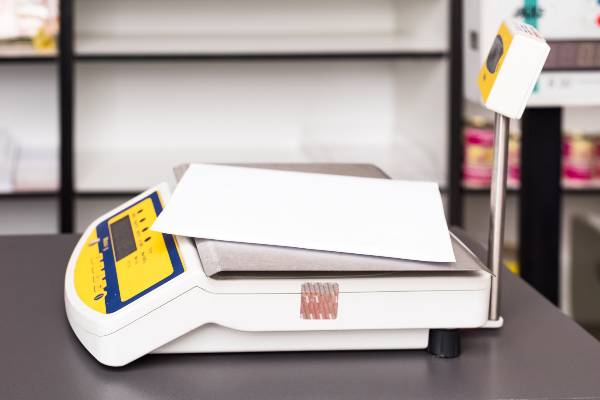 How Many Stamps For a Postcard
Sending a postcard is a small but wonderful gesture to remember a family member or friend. You have a wonderful postcard but aren't sure how to postmark and send it. We have the steps below to help you get your postcard mailed out domestically and internationally.
Domestic Postcard Shipping
Now that you have your postcard, we will review how to fill it out to be mailed to the correct address.
The front side will have the picture, so flip over to the backside of the postcard. On the right side of the postcard, there is a place with three lines, and that is where you will fill in the recipient's address. You may write a handwritten message for the postcard recipient on the left side. Sign your postcard, and now it is time to figure out the postage price.
Postcards are $0.40 in postage stamps
It must be at least 3 ½" high, 5″ long, and 0.007″ thick to qualify as a postcard
 but no more than four ¼" high, 6″ long, or 0.016″ thick.
Since postage on a postcard is only $.40, you have the option to buy a Domestic Forever Stamp and overpay on postage since they cost $.58. Or you have the opportunity to purchase a postage stamp for $.40 for your postcard.
There is a classification of postcards referred to as Large Postcards, which cost the same as First Class Mail Postage of $.58 and up to send.
Large postcards can measure up to 6 ⅛" high, 11 ½" long and ¼" thick,
International Postcard Shipping
Standard postcards are between 5-1/2″ to 6″ long and 3-1/2″ to 4-1/4″ high and are no more than 0.016″ thick. Postage will cost $1.30 to mail postcards First Class mail internationally, so one Global Forever Stamp for $1.30 will cover the final shipping cost.
How Many Stamps for International Mail
People can get confused when sending international mail and what shipping costs are associated with countries. We will first address how to send a standard letter internationally and how many stamps will be needed.
Postage for International Letters
Mailing a letter internationally doesn't have to be confusing? We will address the cost and required size of the envelope. The postage you can send an international letter with is the Global Forever Stamp. It only costs $1.30 to send a 1-ounce letter (or postcard) using a Global Forever Stamp.
If your standard letter weighs over 1 ounce, you can buy extra postage up to 3.5 ounces. After 3.5 ounces, you can mail a large envelope (flat) that weighs up to 15.994 ounces, paying the rate for large envelopes.
The price for each additional ounce will depend on the destination country's price group, which you can find at USPS.com under the International tab.
International First Class Envelope Size Requirements
International letters mailed using First-Class Mail International Service must meet specific criteria not to incur extra charges.
The letter can weigh up to 3.5 ounces
Minimum Lenght is 5-1/2 inches
Maximum Lenght is 11-1/2 inches
Minimum Height is 3-1/2 inches
Maximum Height is 6-1/8 inches
Maximum Thickness is 1/4 inches
Must be rectangle and made of paper
If your letter can't fit through the mail processing equipment because your envelopes are lumpy or rigid, you will have to pay $0.30 more to send it. You'll also have to pay more if your envelopes are square or vertical (taller than they are wide).
International First Class Large Envelope (flat) Rate Size Requirements
If your letter exceeds the above measurements, it may be considered a large envelope. The postage for a large envelope (or flat) starts at $2.60 for 1 oz. It must be within the measurements below to be considered a large letter and not a package.
Minimum Lenght 11-1/2 inch
MAximum Lenght 15 inches
Minimum Height 6-1/8 inches
Maximum Height 15 inches
Rectangle
If it measures within standard letter sizes but weighs over 3.5 ounces will be charged under large envelope (flat) rates resulting in additional postage needed for shipping.
Keep in mind to check for information on what you are mailing internationally because different countries have different rules so make sure you're following their rules.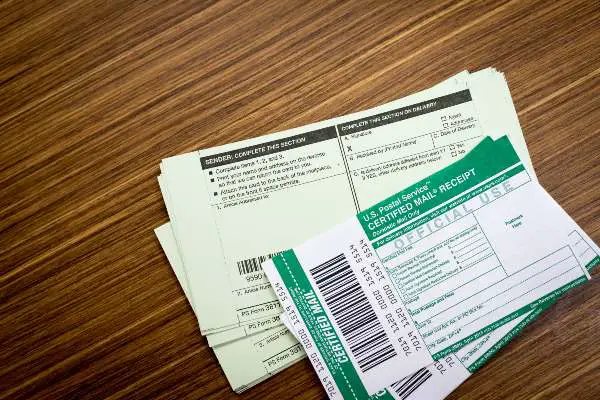 How Many Stamps Do I Need For A Letter From the US to Mexico
You need to know the postage cost on a First Class letter you are mailing to Mexico. We will explain how many stamps you need for a standard First Class letter and flat rate letter.
Stamps Needed for International First Class Letter to Mexico
When mailing a First-Class letter, it must measure between 5-1/5 to 11-1/2 inches in length and 3-1/2 and 6-1/8 inches high. If the envelope meets these measurements and weighs under 3.5 ounces, the prices are as follows.
$1.30 for up to one ounce, 1 International Global Forever Stamp=$1.30
$1.96 for up to two ounces.
$2.60 for up to three ounces, 2 International Global Forever stamps
$3.25 for up to 3.5 ounces (anything over 3.5 ounces becomes large or flat letter)
How Many Stamps Do I Need When Mailing To Mexico
Once your letter reaches a weight of 3.5 ounces or exceeds the measurements of a standard letter, you will have to pay rates for large envelopes (flat). When mailing large letters to Mexico, below are the rates based on weight.
$2.60 for up to one ounce = Two Global Forever Stamps
$3.38 for up to two ounces
$4.14 for up to three ounces
You can also visit https://www.usps.com/international/first-class-mail-international.htm for a detailed list of all countries and the postage costs based on weight and letter or package type.
When sending packages or mail to another country, always check what items are not permitted to be shipped. Mexico does not allow ammunition, coins, electronic cigarettes, pork products, pharmaceuticals, and powders of all kinds. For a detailed list of all the items, visit https://pe.usps.com/text/imm/mo_011.htm#ep1249777
How Many Stamps to Use When Shipping From US to Canada
So, you need to mail a letter to Canada from the US and need to know how much postage will cost you? We have broken down the information into a few easy-to-read sentences.
First Class International Letter Stamps/Rates To Canada
Price is $1.30 up to 2 ounces = 1 Global Forever stamp
3 ounces is $1.83 = 1 Global Forever stamp and 1 Domestic Forever stamp
3.5 ounces is $2.36 (after 3.5 letter changes rates to flat rate or large envelope)
Canada's first two ounces are $1.30, so you can purchase the International Forever Stamp, which will cover the first two ounces of your First Class Letter. Once you get past the 2nd ounce, the price is $1.83, an additional $.53 an ounce after the first two ounces. You can purchase a Domestic Forever Stamp for $.58, and yes, you will be paying an additional $.05.
If you rather not pay any additional money for postage, you can always purchase stamps at https://www.stamps.com. You can print postage directly onto envelopes or print up shipping labels in exact postage amounts.
First Class International Large Envelopes Stamps/Rates To Canada
Now that your letter has exceeded the weight of 3.5 ounces, your rate will fall under First Class International Large envelopes (flat) rates. If your letter exceeds the height, length, and weight listed for standard envelopes, these rates come into effect.
$2.60 Up to one ounce = two Global Forever stamps at $1.30 each.
$2.85 up to two ounces = two Global Forever Stamps and $.25 in additional stamps
$3.09 up to three ounces = two Global Forever Stamps and $.49 in additional stamps or you could use two Global Forever stamps and one Forever $.58 stamps, so it will be $.09 over.
$3.31 up to four ounces = two Global Forever stamps ($2.60), a Forever stamp($.58), $.13 In $.01 stamps.
$3.55 up to five ounces = three Global forever stamps is $3.90, so you will spend $.35 cents over, or buy two Global Forever stamps and two Domestic Forever stamps
$3.79 up to six ounces = three Global Forever stamps is $3.90 so $.11 over or two Global Forever stamps and two Forever stamps, and 3 $.01 stamps.
$4.03 up to seven ounces = three Global Forever stamps and 13 $.01 stamps
$4.27 up to eight ounces = three Global Forever stamps, one $.25 stamp, one $.10 stamp, and two $.02 stamps
$5.45 up to 12 ounces = four Global Forever stamps and one $.25 stamp
The USPS.com website has a complete list of countries and their postage and shipping costs. The link above will take you directly to the international First Class Mail page.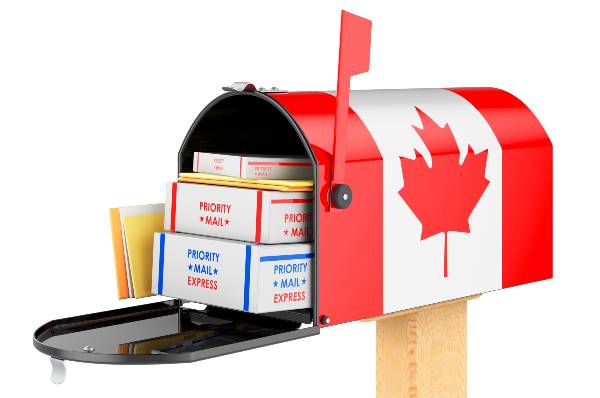 Keep in mind that when sending a package or shipping a letter to Canada, certain items cannot be mailed. Some of these items include alcoholic beverages, firearms, gold bullion, gold dust, nonmanufactured precious metals, Oleomargarine and other butter substitutes, and the plumage and skins of wild birds. These are just a few of the items on the list you can visit https://pe.usps.com/text/imm/ce_003.htm#ep7833523
Where to Buy Stamps?
Let us also address how to buy postage stamps. You already have your letters or packages, but you will need stamps to get started. So we will go over exactly where you can buy your stamps.
There are a few ways to get your postage stamps, and we decided to list them with the most convenient way first.
Buy Stamps Online
The post office has a great feature to order your stamps right from your home computer. Ordering your postal stamps online is a great way to have your mail ready for drop off at the post office or nearest US postal service mailbox. Here are the steps to order your stamps online
Visit the USPS website at  https://store.usps.com/store/home
Click on the QUICK TOOLS box.
Select BUY STAMPS
On the left side of the page, there are options for Product Type (Under 58-cents, Forever 58-cents, over 58-cents), First Day of Issue, Theme.
Select your options, which stamps, and what quantity you want to purchase.
Select ADD TO CART
Select CHECK OUT NOW, follow prompts to pay with a credit or debit card.
In-Person at US Postal Service Offices
If you're not someone familiar with computers, there is always the option to buy them at your local post office location. To find your local post office visit the U.S. Postal Services website, find a location tool, and follow the steps below.
Under FIND A LOCATION, enter in city, state, or zip code of where you are searching.
LOCATION TYPES allows you to search for Post Offices, Collection boxes, Self-Service Kiosks, Village Post Office, and National Retailer.
Select within how many miles of the location you selected and select the search button.
Order Stamps by Mail
The U.S. Postal Service also has an option for you to order postage stamp by mail for those who may not make it into the post office or have access to a computer and printer. Below, we outline the steps to order stamps by mail without ever leaving your house.
Request a  PS Form 3227-A from your mail carrier. You will need to complete this form to order stamps through the mail. You can also pick the paper up at your post office.
Once the form is delivered, fill in your information in the corresponding boxes, select which set of stamps you would like.
A check or money order payment is made payable to "USPS" or "United States Postal Service" and mailed with the completed form to the address on the form.
Within a few days, your stamps will arrive.
Ways to Save Money on Stamps and Postage Costs
Saving money is excellent, and yes, there are ways to save money when you send a package or buy postage stamps. Since we went over how many stamps you need when sending your letters, Im going to share a few great ways to save money on stamps and shipping costs.
How To Money When Sending a Letter
When sending a letter or package, the easiest way to save money is to pay attention to the specific shipping rules. The post office charges extra on envelopes like a greeting card that is a square instead of a rectangle. Below is the difference in the cost of stamps to send a square envelope.
Rectangle envelope First Class Domestic Mail needs one Forever stamp of $.58
Square envelope First Class Domestic Mail needs one Forever Stamp and $.30 in additional stamps = $.88 ($.58 + $.30 extra charge)
Imagine the extra cost of mailing out 200 wedding invites or 600 greeting cards to previous customers to alert them of an upcoming sale. $.30 a letter can add up quickly for something as small as the shape of the envelope.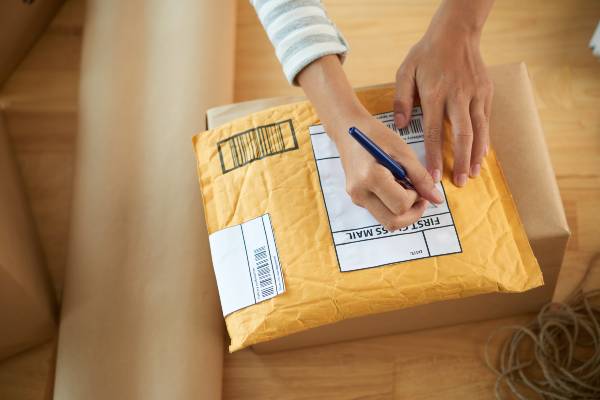 How to Save Money When Buying Stamps
So there are a few trade secrets to saving money when you buy stamps.
Forever Stamps
In 2020 and until August 2021, Domestic Forever Stamps cost $.53. If you look at the Forever stamp, you will notice an amount is not attached to the front of the stamp. Forever stamps don't list a value because it takes one Forever stamp to mail a domestic letter. If today the forever stamps cost $.58, but in 10 years, the price for the Forever stamp is $2.00, your one stamp bought in 2021 for $.58 will still mail a domestic letter.
If you send domestic letters often, it is wise to stock up on Forever Stamps because if the cost of the stamps rises, you will not have to pay the extra amount when you mail your domestic letter.
Save Money on Postage
There are many ways to buy stamps through the USPS, but you sometimes have to think outside the box to save money. There are alternate ways to buy stamps that can save you significant money if you often send letters or packages.
Ebay
eBay is a website that has bidders bid on items for sale on the site. Some things are available for immediate sale, so you can choose to bid or search items available for purchase now. eBay can have great deals on stamps.
There are books of 100 Forever stamps on sale quite often that people may have from years ago. Each forever stamp mails one domestic letter. I recently saw a book of 100 Forever stamps on sale for $37. If you purchased one today, it would cost you $58. so that is over a $20 savings.
One hundred stamps are a lot if you don't mail postage often but ask a few friends or family members to split the cost 4 or 5 ways.
Stamps.com
Stamps.com is another site to save money on stamps and shipping through. The website has a monthly membership which is more suitable for small business owners, e-commerce, or sending letters or packages frequently. Their site has discounted stamps and shipping rates through their website.
Conclusion
Sending letters and postcards does not have to be confusing. We laid it out and simplified how many stamps you need for domestic and international letters and postcards, where you can buy your stamps, and how to save money on your postage costs.
Sending letters and postcards are a great way to show friends, family, and business associates you took the extra time to handwrite a letter or send a card. Although email is popular and frequently used, there is nothing quite like sending or receiving a wonderfully handwritten note.